Advanced Rules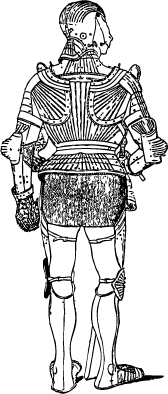 This section explains optional advanced fantasy gaming rules. Advanced rules, in this section, are more realistic and complicated. They will enhance the basic rules. Some of these advanced rules will slow down the game. We suggest that you become comfortable with the basic rules first, before trying these advanced rules. You don't have to use all of the advanced rules all the time. Pick the ones that works well with your game. The advanced rules are listed alphabetically.
Multi-Layering Armors
Multi-layering armors offer double protection; after penetrating one, the attacker must roll to penetrate the second one. Multi-layering armor only works for armors of different types. For example, it's not possible to layer plate mail on top of plate mail; armor makers would simply make thicker plate mails then providing multiple layers.
Of course, there are a few draw backs. If a character multi-layers plate mail armor and chain mail armor, in the same body section, the character would receive -1 action penalty. If multi-layering of plate mail and chain mail occurs at a joint, then the character will receive -2 action penalty. Any other combination of armor layers would be fine.
It is also possible to have more than two layers of armor. However, for each layer of armor over two, -1 penalty must apply to the character's action.
Destructable Armors
In most fantasy role-playing games, the character's armor is indestructable. This unrealistic rule makes the game move faster and less cumbersome. But if you want to play with realistic destructable armors, you can apply this rule.
When the armor is hit by the weapon, the armor automatically takes damage; the same amount of damage that is applied to the character. However, the weapon damage rating must match or exceed the damage rating of the armor. Otherwise, the weapon does no damage to the armor.